3 Reasons to Get a Bike for National Bike Month
Posted on by Isabelle Brown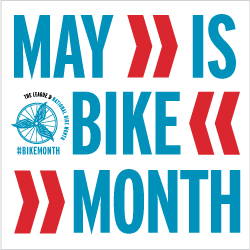 May is National Bike Month! First established in 1956 by the League of American Bicyclists, Bike Month is a chance to spread the word of the many benefits of bicycling and encourage more folks to try biking.
Why should you consider investing in a bicycle? We have some ideas. Here are three reasons why biking is worth it if your city has bike-friendly infrastructure.
1. You'll Save Money
You know how people call cars gas guzzlers? Well, they're money guzzlers, too. Paying for fuel, insurance, routine maintenance, tolls, parking, repairs... It feels like it never ends. With a bicycle, once you buy your bike, a helmet, an air pump, a bike lock, and maybe some cool gear like a bike bag, the savings can begin.
Electric bicycles at a higher price point than your average commuter bike can be well worth it, too, as they allow you to ride longer with excellent efficiency.
2. You'll Feel Great
Feel free to cancel your gym membership if you start riding a bike to work. Cycling strengthens muscles and flexibility, improves joint mobility, promotes better posture and coordination, and improves overall cardiovascular health. Remember to talk to your doctor before starting any exercise program.
When we say you'll feel great, we mean mentally, too. Riding a bike and being active in general decreases depression and anxiety by releasing multiple of our beloved 'Happiness Hormones.'
3. You're Making a Difference
When you bike somewhere, you're taking up substantially less space than you would if you had driven. Being small makes a big impact. Cars disrupt the flow of an accessible community, making streets busy, loud, and dangerous for pedestrians and cyclists.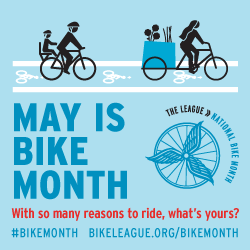 Utilizing bike-friendly infrastructure like protected bike lanes also makes a difference in the simple act of using it. When our bike lanes are thriving, it sends a message to city planners, government, and the transportation industry that we should be prioritizing eco-friendly, active commute modes. When you're cycling to work, you are climate action at work!
Let's Ride!
Feel free to use hashtags #BikeThere, #BikeAnyDay, BikeAnytime and #BikeAnywhere to share your biking experiences during Bike Month, and spread the word of how wonderful cycling can be!
---
---